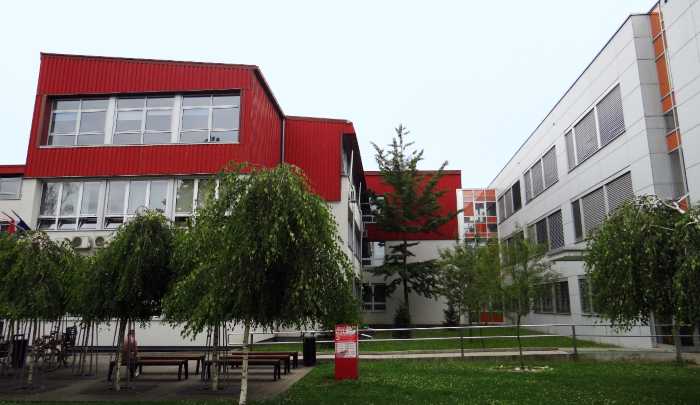 ABOUT US
At the Gospodarska škola Varaždin in academic year 2015/2016 we offer following professions:

- ECONOMICS HIGH SCHOOL (24 students)
- TOURIST HIGH SCHOOL (24 students)
- ECONOMIST (athletes included in regular classes) (48 students)
- COMMERCIAL AGENT (24 students)
- HOTEL AND TOURIST TECHNICIAN (24 students)
- ADMINISTRATIVE OFFICER (24 students)
- BUSINESS SECRETARY (24 students)
- CHEF (24 students)
- WAITER (24 students)
- SALESPERSON (24 students)

"For all our courses there is a great interest of students, especially in the sector of tourism and hospitality management for tourism high school, hotel and tourism technicians and chefs and in the sector of economy, trade and business administration for the economic high school, economists and administrative officers" - the school's principal Katica Kalogjera Novak emphasised and added that the school is equipped with modern teaching tools. All classrooms are IT equipped and education for occupations in the field of tourism and hospitality management is carried out partly in the culinary and hospitality practicum. "We have a three-part sports hall and outdoor courts for carrying out the physical and health education. Students with visual and hearing disorders can enroll in our school because we have obtained the necessary equipment for easier learning through the project "Sign to me". Through the project SEM we have introduced e-learning into the education of adults that will be expanded to the regular education. The Center of Excellence in Entrepreneurship operates in the school. Students also have the possibility of acquiring DSD certificate. Students participate in the contest of different subjects from which they traditionally enter national contests in foreign languages, LIDRANO, sports events and other." Gospodarska škola Varaždin is among the best vocational schools according to results of the final exams, and is recognizable for students' participation in projects. Students get a wide range of modern knowledge, skills and competences that are important for the labor market, which is transfered to them by quality teachers and thus they acquire a quality education that allows them to enter higher education institutions. The bgreater number of students enter The University of Zagreb (Faculty of Economics, Faculty of Law, Faculty of Organization and Informatics, Faculty of Philosophy), The University of Rijeka (Faculty of Humanities and Social Sciences), Faculty of Hotel Management in Opatija, Faculty of Teacher Education, The University of Zadar (foreign language studies) and other high education institutions.
VISION
As the continuous and high-quality lifelong education is the foundation of the entire social and individual progress, the permanent task of the school is to raise the quality of vocational education in the area of economics, trade and business administration as well as tourism and hospitality management, by following theoretical and practical knowledge and working methods, with the goal to educate young people to use acquired knowledge and competencies to face complex lifes challenges.
MISSION
By continuous education and improvement of school teachers on a professional and personal level, we continue to raise the quality of theoretical and practical teaching with the goal of educating quality, competent and creative young experts that will use their knowledge and competences as an earned capital by direct involvement in specific socioeconomic segments of commercial practices, as well as a basis for continue their education to acquire new knowledge and competences that will enable them to get involved in social and economical segments as highly educated experts, and into a civil society as responsible and conscious individuals.
HISTORY
The first traces of Gospodarska škola Varaždin are found in the year 1846 when Gremijalna trgovačka škola was founded and in the year 1886 when the Apprentice school was founded. Traders from that time have created curriculum modeled on schools from Pečuh and Ljubljana that had a three-year education. Under the same name, the school was working until February 1th, 1904, when it is renamed into Trgovačka zadružna škola, and in the 1921 General trade school Varaždin. The school accepted only boys older than 12 years. It is interesting that the first girl who entered in Apprentice school was accepted in 1929 to become a tailor. The school has changed its name several times through the history: it became The professional local school of city of Varaždin in 1935, The school of students in economy from 1947, in 1967 it became The school for educating skilled and highly skilled workers of mixed professions, and in 1973 it was renamed to The school center 32nd division. When Yugoslavia got separated the school was named Technical, industrial-craftsmen, trading and hospitality management school Varaždin, and on July 7th the school was abolished and instead Secondary Vocational School and Commerce School were founded as its legal successors.